"I want to breed my dog"
Everyone probably thought about having a puppy off of their own dog at one point in their life. I surely did.
But breeding dogs, isn't as "easy" as it seems, because there are many questions and facts that come along with having the desire to breed ones dog:
- Is my dog completely healthy?
- Does it have any problematic genes that can cause its offspring to become sick?
- Does my dog have any structural faults like flat feet, a bend in its tail, non-symmetrical ears, floppy ears even though there should be standing ones,.........?
- Can I provide a safe space for the puppies where they are also experiencing their first socialization to their environment and other human beings?
- Am I ready to stay up or constantly wake up at night to feed the puppies, in case my female gives birth to 11 or more puppies?
- Do I have the financial recourses to properly deworm and vaccinate so many puppies?
- How am I going to be sure that I give the puppies away to a good and caring home?
See, those are just a few things someone has to think about, when considering to breed their dog. Of course, you could be one of those people, who just don't care about all of this and just get the cash for sick puppies, that come as a package of worms, diarrhea, genetic issues and structural faults and maybe not even the breed it was claimed to be.
So, let's start with the basics...
Why can't I breed my dog without it being fully health tested?
Breeding a dog without being health tested and confirmed completely healthy and without any problematic genes that could be passed on the offspring, minimizes the risk of having sick puppies.
Oftentimes you as the one who produced the puppies, will not be able to see if one of your dogs puppies has a severe hip dysplasia, turned out to be blind or deaf, has epilepsy, has one extra vertebrae, which causes lifelong back pain, and so on...
If you decided to breed your untested dog, that has no pedigree and you simply don't know anything about your dog and it's genetics (parents and grandparents also play a role!), you automatically agree with dog-misery and help produce sick dogs with maybe a shorter lifespan than they were supposed to be.
You risk having those puppies be given away to a shelter, because the owner was not able to carry those tremendous costs for providing one of your puppies a pain free life.
You risk that dog being abandoned somewhere in the wild, because of the owners inability to pay those vet bills.
And, there is a term for you.
Backyard-breeder.
In Germany, we have a pretty term for this. "Vermehrer" which basically means "multiplier". This means, you produce dogs just for profit.
"I want to breed my German Shepherd to a Husky! The puppies are going to be so pretty!"
Mutts, mixed breeds, mixes, bastards, noodles and doodles.
There is a widespread misconception of mutts being healthier dogs, since they are not "overbred". It shall unite only the good traits of each breed and create the best puppy in the world.
So, let me get that disbelief out of your head.
As far as it comes to health, everything what I already said above applies to mixes also. You're not going to breed a hip dysplasia free German Shepherd-mix by combining a Husky with a German Shepherd that already has HD (knowingly or not).
If you don't understand what I mean, please reread the passage above.
Mixes also have one major problem.
They are torn appart in the deep abyss of their inner self.
Now, what I mean by that is, creating a mixed breed with completely different breeds, causes the personalities of the puppies to become a great range from "unproblematic" to "a living hell" within just one litter.
An example:
We are going to create a silver "Lab".
Since Labrador Retrievers only come in three colors (yellow, black and chocolate. Fun fact: originally only black labs were desired in the breed) we'll need to mix a dog with the "dilute gene" into the Lab.
What is the dilute gene?
It's a gene that causes black or brown to dilute into what's called "blue", which basically is a shiny grey color that sometimes appears as silver. It even causes the eyes to be blue or grey in color.
Pretty, ain't it?
The problematic thing is, that this dilute gene also causes skin problems, proneness to allergies and some other problems (if you're interested please look this up yourself.)
So, back to our Labrador.
Now, we take a second breed, which preferably has a silver coat. The Weimaraner seems to be a good pick.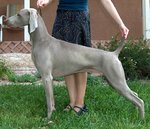 Now we have the Weimaraner, a strong dog with a passion for hunting. It needs to be worked in the hunting field in order to be calm and happy. It's a breed which has been bred to follow the track of the shot prey, is excellent in nose work. It also is protective and can be taught to protect the hunter from dangers like wild animals or other humans.
It's a very high maintenance dog, that needs a strong, experienced leader, since it also can be very stubborn.
And we breed this to a Labrador Retriever, a loving pet, suitable for almost every person on earth, easy to handle and eager to please it's human. The Lab was bred to retrieve the prey from water, therefore it loves swimming probably more than food. The Labrador Retriever certainly gets along with any other dog and human. It is friendly in general and easy to train.
We want a silver
Labrador Retriever,
remember?
Now, we have a litter of Weimaraner-Labrador puppies, some are black, some are silver. Some will later turn out to look more like a Weimaraner and some like a Labrador.
Let's take the puppy that looks like a Lab and fast forward to it being 1 year old.
Our mix now looks like a silver Labrador, it likes to swim and eats huge amounts of food, but it is starting to growl at other people and can't stand other dogs anymore.
"Protective", that's what the Weimaraner was supposed to be, right?
You wanted a friendly, easy to train silver Labrador, but now you have to deal with a potentially dangerous dog for probably about 11 years.
That isn't what you wanted right? Why didn't you just chose a purebred Labrador Retriever and accepted the three colors those dogs could provide? (Fun Fact: there are two more acceptable colors since they are only other variations of "yellow" they're called "foxred" and "white")
Mixing breeds will always create puppies that are more of a surprise package, than the things you thought they will be. You can create dogs, that are so fearful, aggressive or torn apart, that their lives and the lives of the owners become hell.
Yes, there are totally healthy dogs, whose parents didn't have a pedigree, are not purebred, aren't health tested and so on. But maybe you are just lucky for having the healthy one of the litter? Maybe 2 already died from an enlarged heart at birth? Maybe 3 are suffering so bad from epilepsy, that they have to be put down at the age of 1 year? Maybe 6 already got a new hip at the age of 2? You never know.
While real breeders cannot beat nature and the complexity of genetics, they can and do minimize the risks of producing sick dogs.
They do not profit from breeding, even when they sell a puppy for 2000€. All the money has to be spend for health testing, driving to shows, feeding the dogs, vaccines, deworming, injuries, destruction of the house and so on. They breed, because they love their breed and constantly strive for better health, better structure and better temperament. They care for their offspring, even after selling them. They want to know, that their dogs are living a good life.
If you become one of that Craigslist people, you are creating misery. You are destroying a breed.
I speak from experience.
My boy wasn't a breeders dog, he was a Craigslist Shepherd. He is purebred, but fearful, nervous, his brain is chaos and his bones are like senior dog bones.
Do not breed dogs without knowing what breeding means.
Do not buy a puppy off of Craigslist.
Thank you for reading.
Edit: You can keep any spelling or grammar errors for yourself.
Last edited: